6 Sex Positions You Probably Haven't Tried—But Probably Should!
Do try this at home: Practical and creative paths to pleasure recommended by experts.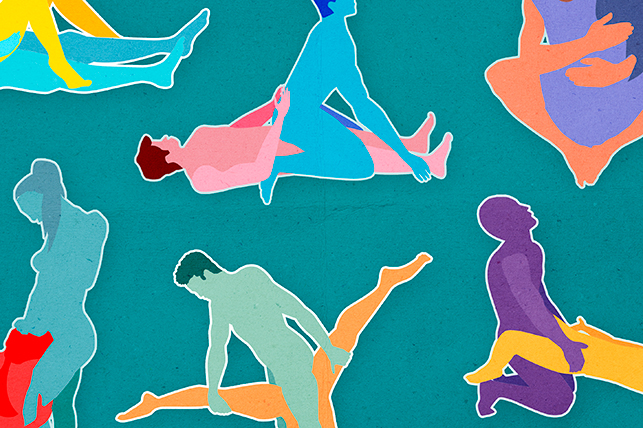 Illustration by Tré Carden
Published: March 02, 2023
Have you ever tried to search for new sex positions online and wound up immediately discouraged by their acrobatic, hyper-flexibility-required demands? You squint your eyes, trying to imagine the bodies of you and your partner fitting together like abstract puzzle pieces. Yeah, no. Not going to happen.
It's OK to stick with the tried-and-true missionary, doggy and cowgirl, but if we promise not to bend you too much or break you, here are some subtle nuances you might like to try.
You may be wondering, how can I ask my partner to try these positions without coming off as awkward or demanding? The key is to bring it up outside of the bedroom.
They'll help breathe passion back into the bedroom. And by slightly adjusting some familiar and conventional sex positions, it'll also help you avoid irritating injuries or straining muscles.
Here are six sex positions that will keep your intimate life fun and exciting (without too much effort).
1. Yab yum, aka lotus
The yab yum, or lotus, position gives partners a chance to connect their minds, bodies and hearts since you'll both be sitting upright. It's great for people who struggle with premature ejaculation because the person on the bottom can't thrust as easily.
"The inserting partner sits on the bed or floor in lotus position [cross-legged] or with their legs straight out, if they prefer," said Carol Queen, Ph.D., the staff sexologist at Good Vibrations, a sex toy retailer based in San Francisco. "The receiving partner sits facing them, on their lap, with their legs wrapped around their partner's low back. The penis or dildo enters them when they're ready."
What differentiates this position from cowgirl is that both partners have control. Queen recommended deepening the connection by putting your arms around each other and rocking together or holding on to a headboard to steady yourself while you thrust.
Since you're face to face, you can hold eye contact, rub your bodies together, kiss and talk all while getting your grind on.
2. Puppy twerk
If you and your partner are more in the mood for twerking than eye gazing, the puppy twerk position is the "chef's kiss."
"For this position, think backward cowgirl," said Yael R. Rosenstock Gonzalez, creator of Sex Positive You, who's based in New York. "One person is facing away from the other, who is lying on their back. The person on top will lower the top half of their body, so their butt is in the air. From here, that person penetrates, or is penetrating, while moving their hips up and down."
Since your hands help stabilize your body weight, you can relax your butt cheeks and begin to twerk.
"This is a great position for both slow- and medium-rhythm twerking because it is not only physically stimulating but also visually stimulating for the person watching that booty move," Rosenstock Gonzalez added.
As with any of the positions on this list, couples of any gender identity can try this position. Although two vulva-bearing partners can use a strap-on, penetration is not necessarily required to twerk on top of your partner.
3. The kitchen sink
You may have unknowingly tried the kitchen sink position while getting it on in a bathroom or kitchen.
"This one is perfect for those who love oral sex but want to spice things up," suggested Nina Nguyen, sex educator and co-founder of Fraulila.de, who is based in Germany. "To get into it, have your partner sit on the edge of a counter or kitchen sink with their legs spread wide open. Then lower yourself down onto their lap and put your mouth on their penis or clitoris."
You may want to put a small step stool under your partner's feet so they're not putting their entire weight on the sink or counter.
If your partner is open to anal play, this position makes it easy to reach around and stimulate their anus with your fingers or a small vibrator, Nguyen added.
4. The double-decker
The name for the double-decker sex position frequently seen in porn comes from red double-decker buses in London. As you might imagine, both partners' bodies are stacked, with one lying on top of the other.
"To get into it, have your partner lie down on their back while you climb on top of them and lower yourself onto their erect penis or dildo," Nguyen suggested. "Once you're both comfortable, have the person on top lift their legs up so that their knees touch their chest. This will create a tight fit. From here, they can grab hold of your hips and use them for leverage as they thrust into you."
This position gives a lot of flexibility: The person on top can use a vibrator for clitoral stimulation, and the person on the bottom can touch their exposed neck, chest, waist and other erogenous zones.
5. The chilled-out piledriver
The piledriver is a sex position many people might see in porn and try to recreate. Unfortunately, it's often uncomfortable for the person being penetrated.
Bailey Hanek, Psy.D., an AASECT-certified sex therapist in Massachusetts and a consultant for the Between Us Clinic, an online men's sexual dysfunction clinic, suggested this more relaxed version:
"The first partner lays on their back with their legs straight up and thighs open; a good bend in the knee can be helpful here. For some sensational grinding, the second partner straddles the first, one leg in front of their partner's legs, one behind. For deep penetration, the second partner can lay on the first, using their partner's thighs as support."
Having your legs up straight (rather than back toward your head) puts less strain on your back as the receiver. But you still get the benefits of a position that allows for deep penetration or easy grinding.
6. The spider
The spider is a great position to try if you're into bondage or bed restraints. The person lying down can be restrained or enjoy laying out spread-eagle style.
"To get into this position, the [receiver] simply needs to lie down on [their] back with [their] legs spread apart," said Megan Harrison, a sex therapist from Tampa, Florida, and founder of Couples Candy. "Then the [penetrator] will climb on top and enter from a kneeling position. This is a great position for deep penetration and can be quite thrilling for both partners."
Communicate first, experiment second
You may be wondering, how can I ask my partner to try these positions without coming off as awkward or demanding? The key is to bring it up outside of the bedroom. Once you're already in a sexual situation, it might be hard to explain a new position.
You can initiate by showing your partner a position you found online and asking if they want to try it. Pictures can help your partner visualize the position and know what to expect in the bedroom. Communication is key for both partners to be satisfied and understand each other's boundaries.
Published: March 02, 2023