Coming Clean About Sex in the Shower
Sex in the shower can be sensual and steamy, plus it opens up all kinds of possibilities.
Published: April 07, 2021
Just like any exotic location—anywhere other than the bedroom, that is—a shower is an enticing option for a spicy sex session. Whether it's spur of the moment or planned, here's how to make the most of your wet-and-wild adventure.
Shower-sex precautions
There's excitement in the air when the conversation turns to shower sex. In a survey carried out in April 2016, Trojan Lubricants asked more than 2,000 Americans whether they would like to try shower sex for the first time, if they hadn't tried it before. An overwhelming 62 percent said yes.
Before you rush off to the bathroom, a handful of safety precautions need to be considered.
Let's start with the obvious: It's slippery in there, especially with water and soap, and a fall could end in a hard landing. You can use nonslip shower mats and footrests, but be careful because if they're not attached to the floor of the shower in some way, they can become more dangerous than the shower floor itself.
Additionally, you should probably remove sharp objects, such as razors and other cleaning tools, during play.
Also, significant height differences between partners can become a problem when sex is vertical, but trying to fix that can cause more problems than it solves. If your shower has a seat, great; just make sure it's not slippery. Do not bring in stools or chairs not designed for the shower. Other than that, the best advice is to get imaginative—if you're of different heights, work with it. You know there's a solution just waiting to be discovered.
One more precaution: You can still get pregnant and contract sexually transmitted infections (STIs) when you're splashing around in water, so pay close attention to condoms and other barriers you're using as they may be more prone to breaking due to increased friction. Women may find their natural vaginal lubrication gets rinsed away, so keep some lube handy, too.
Best shower-sex positions
In a shower, especially a small one, getting everyone in a position conducive to good sex can feel like playing a Nintendo video game in hard mode. Try starting with these positions:
45- or 90-degree doggy style
One partner is in front, bent over 45 or 90 degrees, or whatever angle feels comfortable. The other partner penetrates from behind. (Shower bars can help to grip.) If the partner in front is female, this is great for hitting her G-spot.
The single leg lift
This position is easier for vaginal rather than anal sex. Both partners face each other, and the receptive partner lifts a leg, allowing for easy access to the vagina. She can wrap her leg around her partner or rest it on a seat or other stable platform. This is a great way to stay close, face to face in the steam, and it may feel more intimate than in other positions. You can also do this with your back against the shower wall for added support.
Sitting on top
The penetrating partner sits down first, and the receiving partner sits down on top of them, either facing in or facing away. There are benefits to both positions. Facing in means you'll easily be able to kiss while facing away means both partners will be able to reach around to stimulate the receiving partner.
Other pro tips
The best part of shower sex is the change in environment. Spend time enjoying the steam. Lather each other up. Going down on each other can be a great way to enjoy the water; just be sure to keep the spray away from the active partner's face so they can breathe, and beware of getting soap/shampoo in eyes or mouths. Set the mood with candles (pay attention to fire safety, please) and music. Waterproof speakers are especially fun, as they'll allow you to control the mood as you go. Bring extra lube for penetrative sex in the shower (thicker silicone products are best for play in water).
My favorite pro tip: Make friends with your showerhead. Consider investing in a good one with multiple settings, especially if yours isn't detachable. Showerheads are an amazing way to explore the effects of warm water and pressure on erotic zones. Many people can orgasm from the stimulation of a showerhead alone. You can also start your session in the shower and then hop into bed together—nice and clean and super-turned-on.
Whether it's foreplay for sex in the sack or a hot and wet alternative, make shower sex one of your next fun adventures.
Published: April 07, 2021
Related Articles
Orgasms are awesome, so have more of them by using these clever positions and techniques.
Spice up your sex life by trying these 11 poses for you and your partner.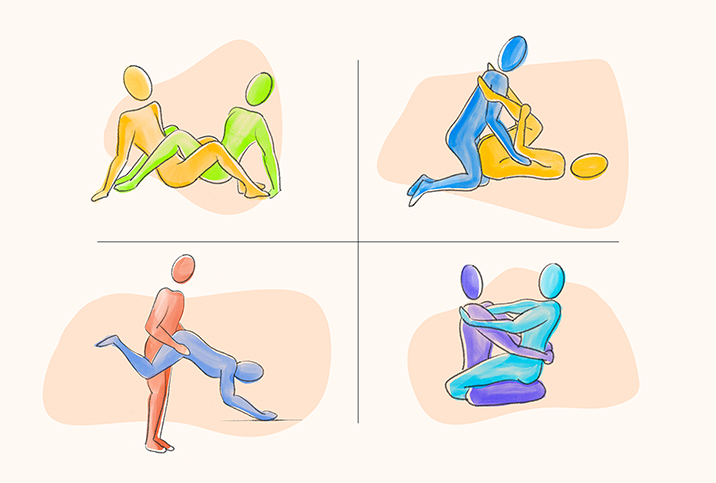 Burn some extra calories during sex by concentrating on already-engaged muscle groups.